About Bofix Fastening Materials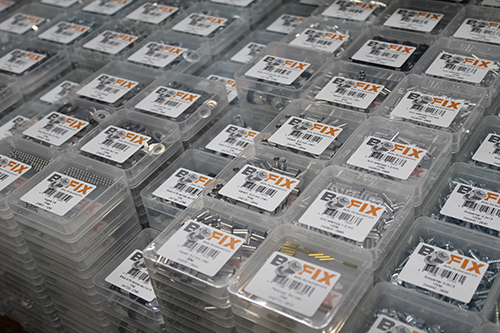 Bofix Fastening Materials has been operational since 1992 and is a wholesaler/importer of bicycle and moped parts.
We sell our products directly to wholesalers and factories across Europe.
All Bofix fastening materials can be packaged in bulk packages for factories or in our smaller plastic boxes that are especially suitable for workshops. This product range can be perfectly sold via wholesalers.
Bofix Fastening Materials has its own packaging department that packages the products according to the client's wishes. Many of our products are also packaged by social enterprises.
The product range consists of around 1600 different types of fastening materials, such as:
Bolts, nuts, and washers
Lamp hooks
Chain tensioners for bicycles and mopeds
Screw nipples, nipples
Parker screws
Adjustment bolts
Valves, adapter nipples
Speed nuts
Plastic clamps, cable guides
Studs
Springs standard
Heat-shrink tubing, spiral cord, zip-ties
Fuses
Power connectors
Storage boxes, assortment boxes.
You can find our complete product range in our catalogue.